Understandably airlines are running restricted schedules at the minute, and a lot of routings involve several connections. We wished to lessen connections as much as possible, and there were limited choices that involved two connections.
Some airlines had no transatlantic business class award availability for the outbound, so we needed to look at other options. One of the few worldwide flights into Bodrum at the minute is on Lufthansa out of Munich, on a twice weekly flight. Just one flight each week (on Saturdays) is timed to link from transatlantic flights.
Those fuel additional charges are rough, so why did I book through Aeroplan? And not through partner programs because the Air Canada flight from Fort Lauderdale to Montreal just had award area through Aeroplan.
As much as it annoys me to pay these surcharges, this ended up being the finest option for a pretty direct path. Provided how empty the Montreal to Munich flight was, I felt like we really got quite a deal, considering that we were essentially chartering a private jet.
Flying Air Canada in the coronavirus era
Our flight from Fort Lauderdale to Montreal was departing at 1:25PM, and we got to the airport at around 11:30AM. We intentionally arrived a bit early, just in case the agent had any issues with our itinerary.
After all, international travel restrictions are complicated right now. We were transiting both Canada and Germany, which are countries that allow Americans to transit, but don't allow Americans to enter. Fortunately this turned out to be a non-issue.
Despite flights around the same time to both Toronto and Montreal, Air Canada check-in at FLL was deserted. Our temperatures were taken and we were asked if we had any COVID-19 symptoms.
The check-in process was painless, and our boarding passes were issued once the check-in agent confirmed we were allowed to enter Turkey.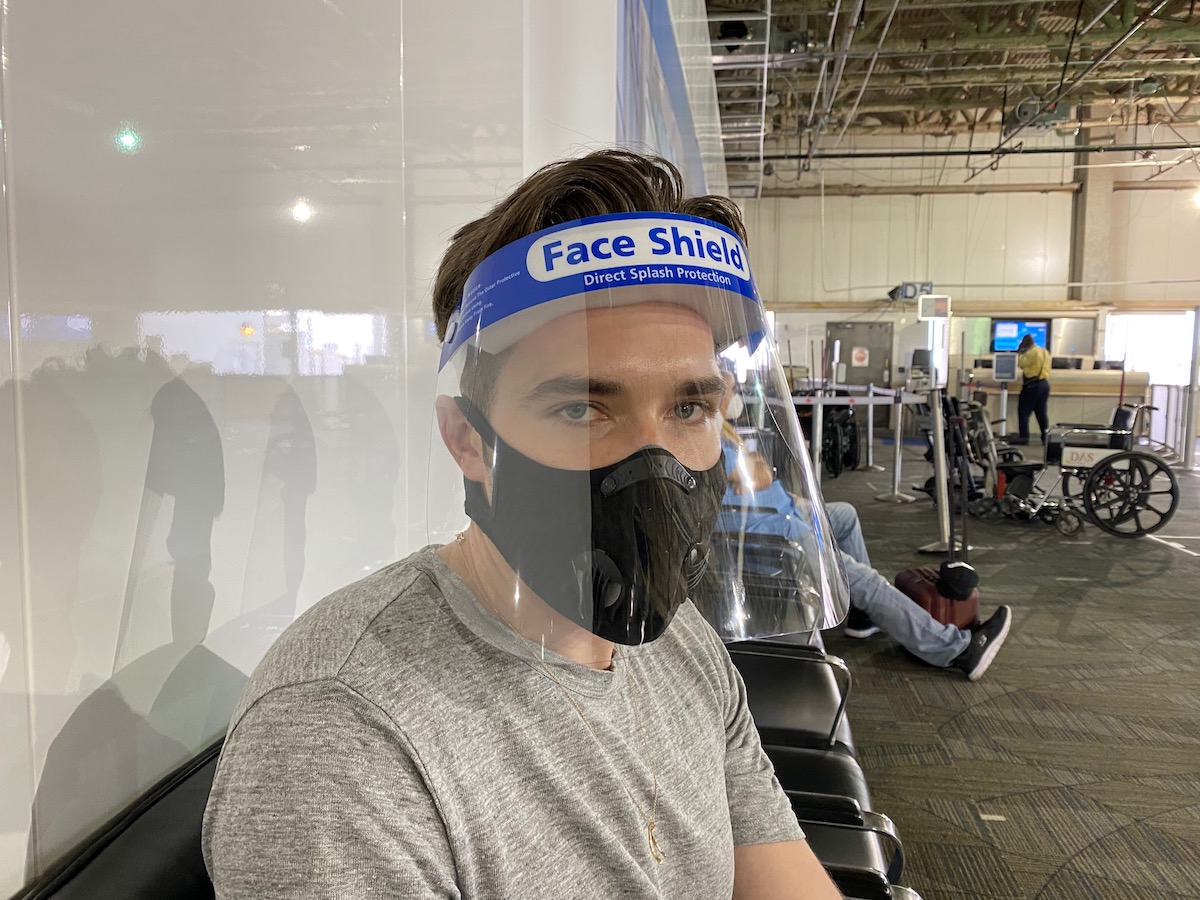 Face shields made us feel much more comfortable, strange as they look
Our flight to Montreal was departing from gate D3, and boarding was scheduled for 12:50PM. The flight had only about 60 people on it, and 10 of those passengers were in wheelchairs, so they were pre-boarded.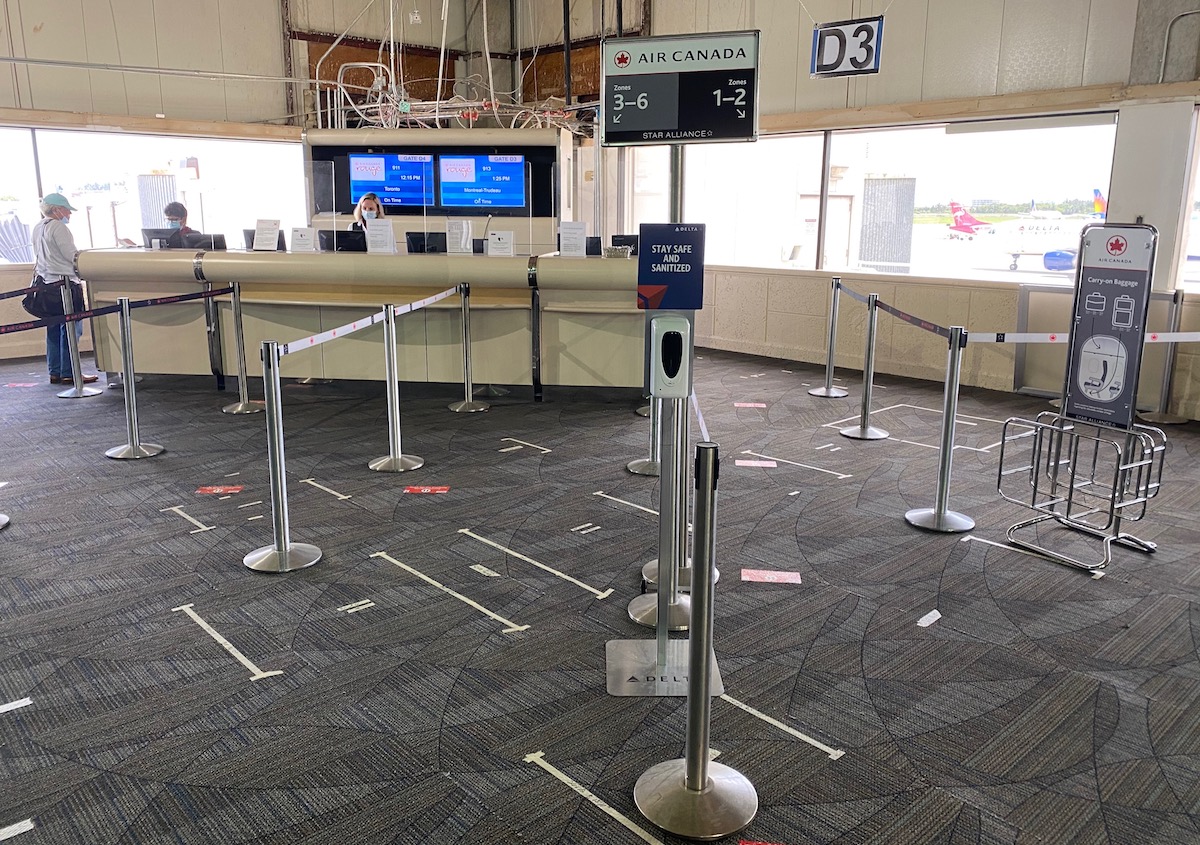 There were two flight attendants at the door wearing gloves and masks, though they didn't say a word as we (or anyone else) boarded.
Air Canada's A320 business class cabin consists of 14 seats, spread across four rows in a 2-2 configuration (the right side of the cabin has an extra row, as there's a closet on the left side).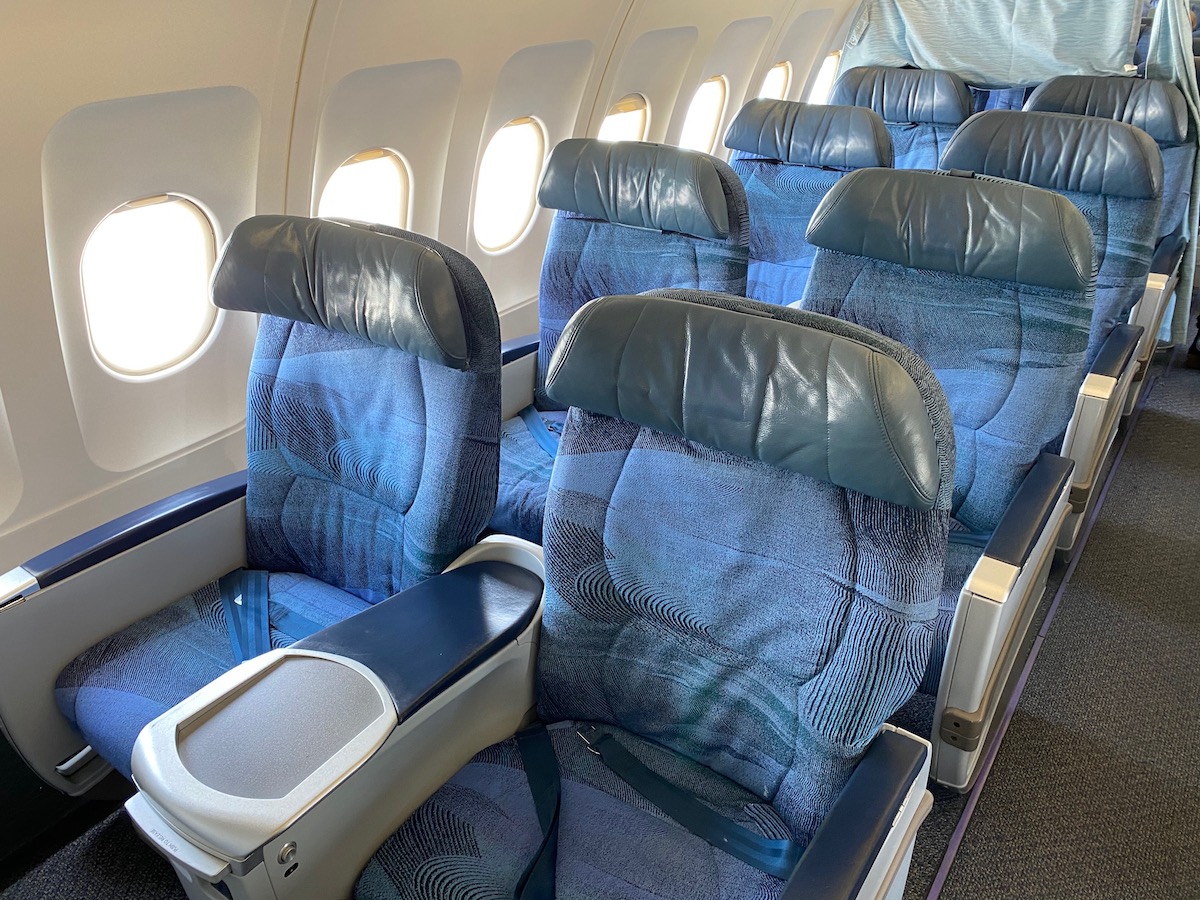 Seats have about 38″ of pitch, so they're comparable to what you'd find in domestic first class on a US airline.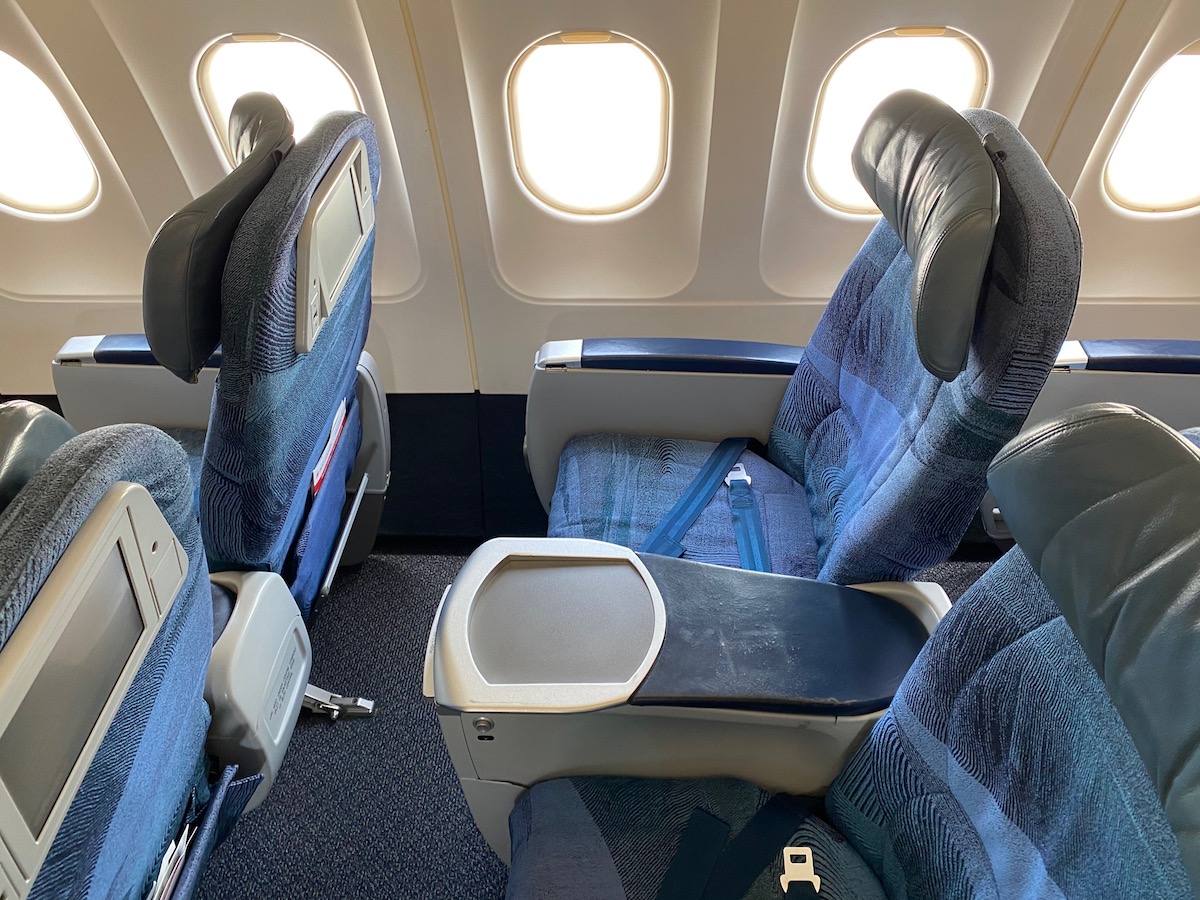 Air Canada has personal televisions and little footrests in A320 business class.
Air Canada business class legroom A320
There were individual air nozzles at every seat, and also power outlets underneath the seat consoles.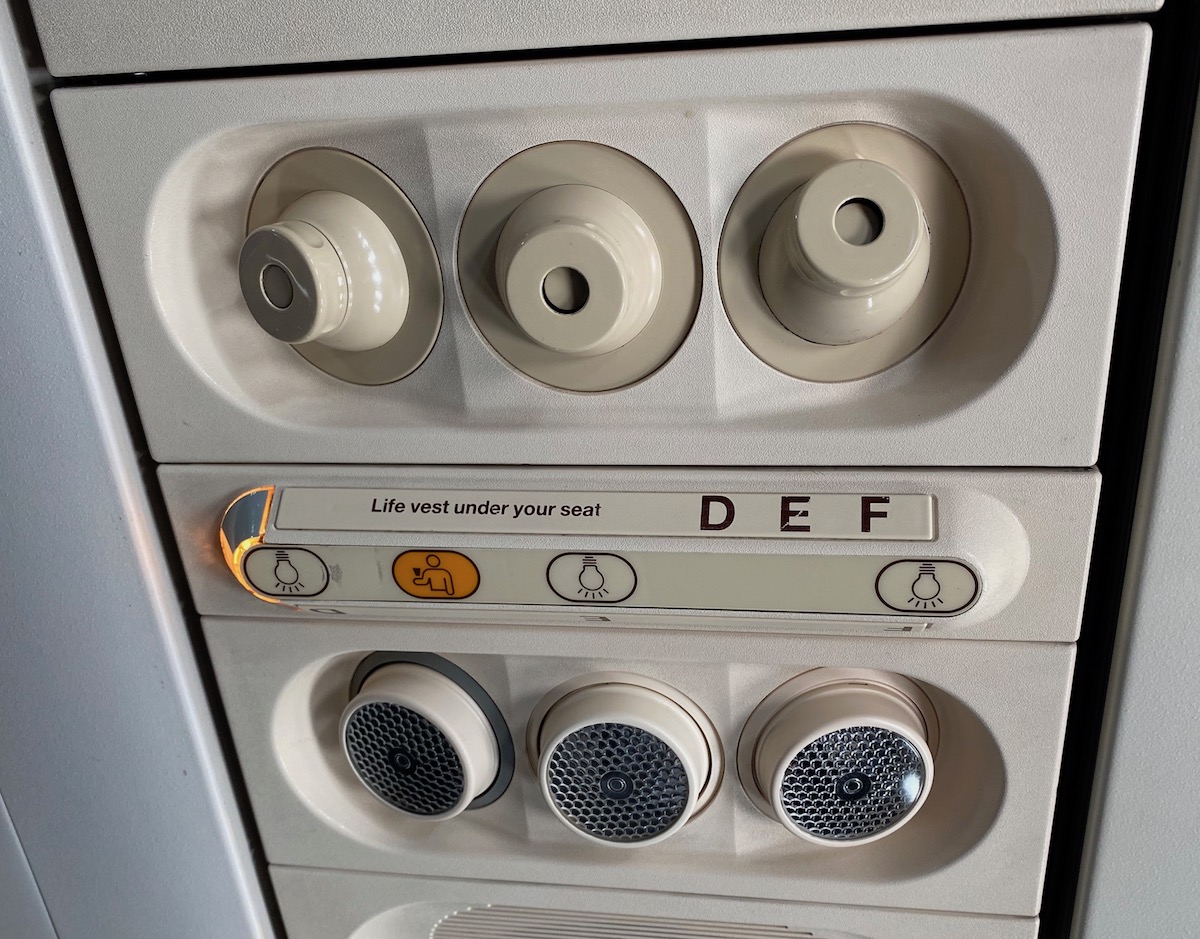 Air Canada business class individual air nozzles A320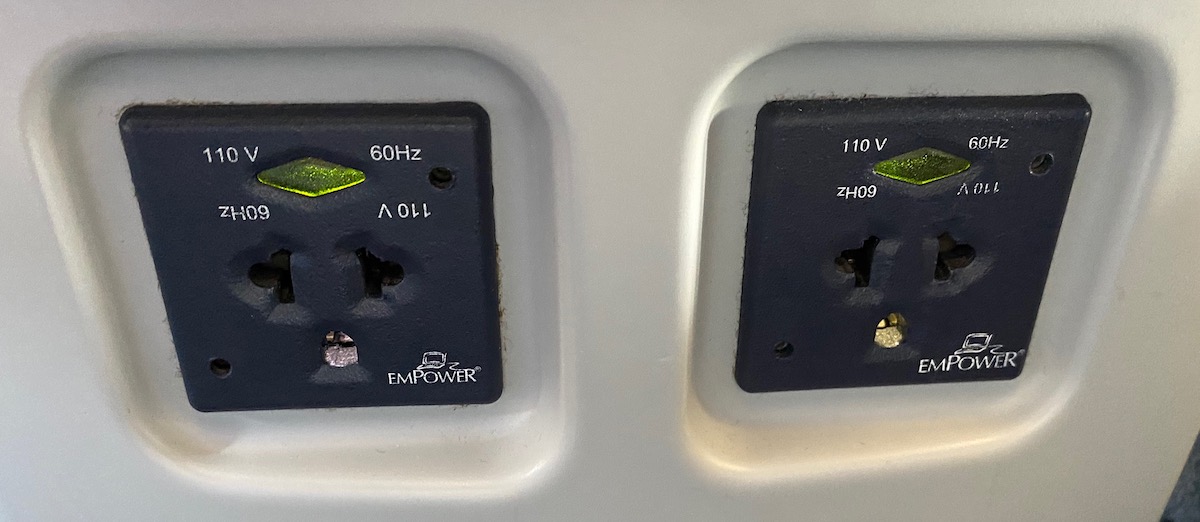 Air Canada business class power outlets A320
The tray tables folded out from the far armrests.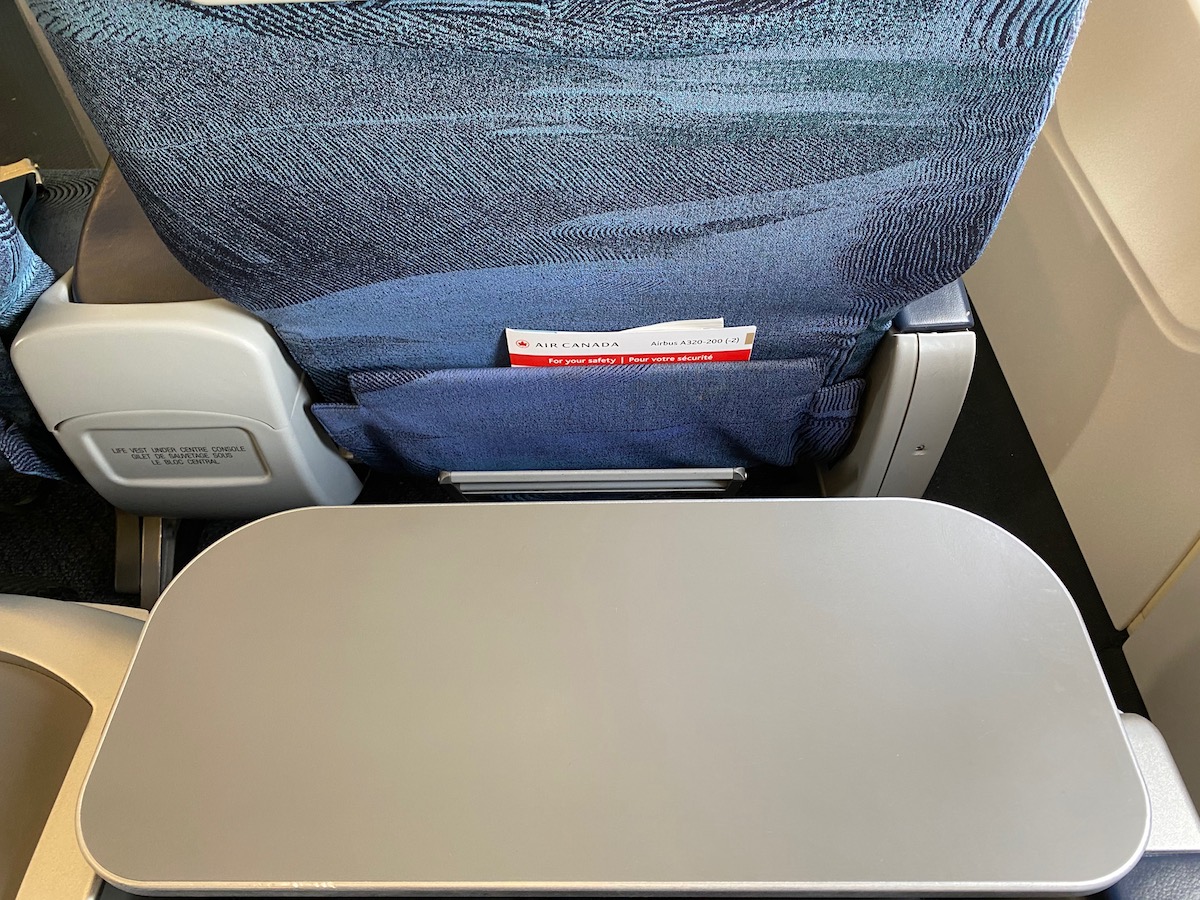 Air Canada business class tray table A320
Once settled in, the flight attendants distributed little baggies, each of which had a bottle of water, a mask, gloves, two disinfecting wipes, and hand sanitizer.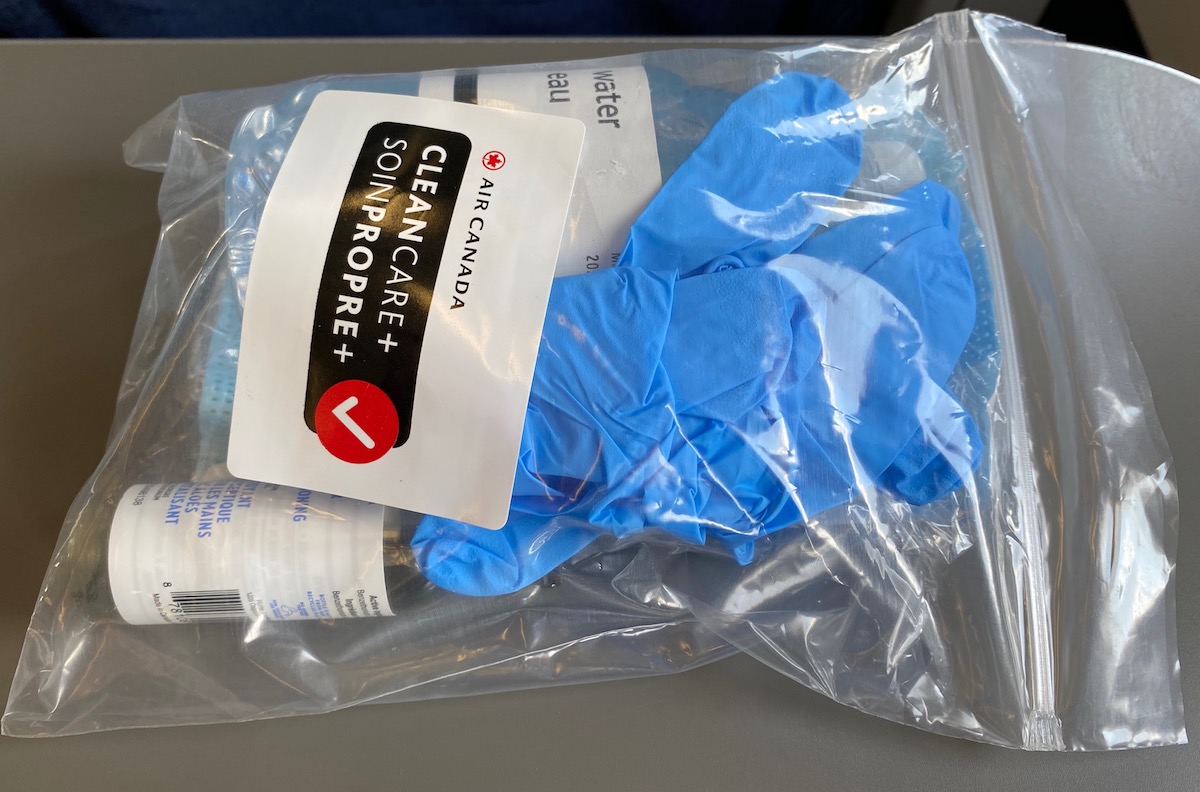 Air Canada gloves, hand sanitizer, disinfecting wipes, and water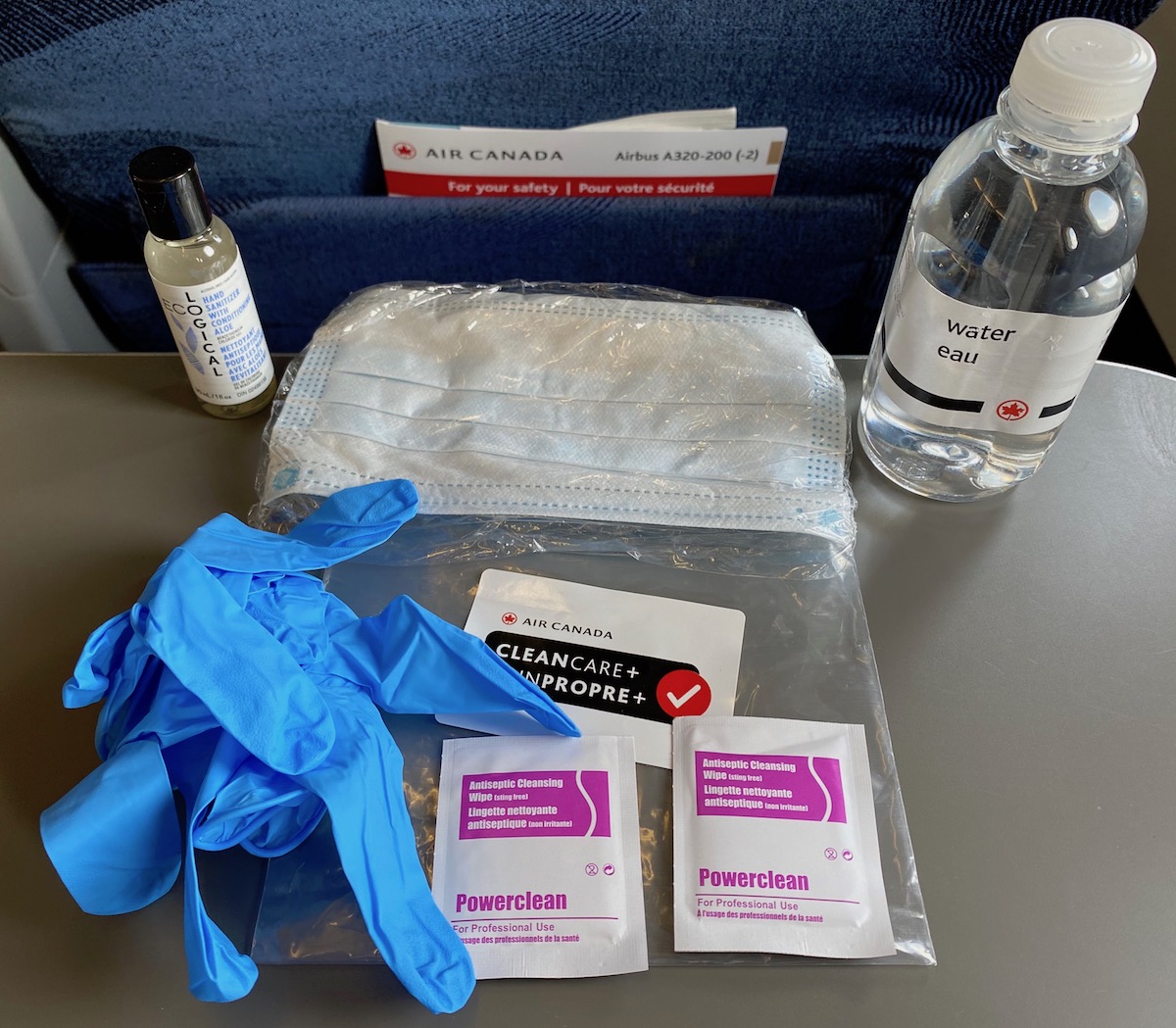 The boarding process was quick since there were only about 60 people on the plane, and everyone was onboard within about 10 minutes. There were just nine passengers in business class. We were lucky in that the row behind us, the row to the side of us, and the seat in front of me, were all empty.
The door closed at 1:05PM, 20 minutes ahead of schedule. An Emirates 777 happened to be landing as I took a picture out the window, which put a big smile on my face.
About 20 minutes after takeoff the seatbelt sign was turned off, at which point the crew changed into PPE. Or at least they wore white gowns in addition to masks, gloves, and glasses.
For some context on Air Canada's staffing right now, the company has laid off 5,100+ flight attendants during the pandemic, and that was done purely based on seniority. Those flight attendants still flying all have well over 20 years of seniority at the airline. As you might expect, this was a pretty senior crew.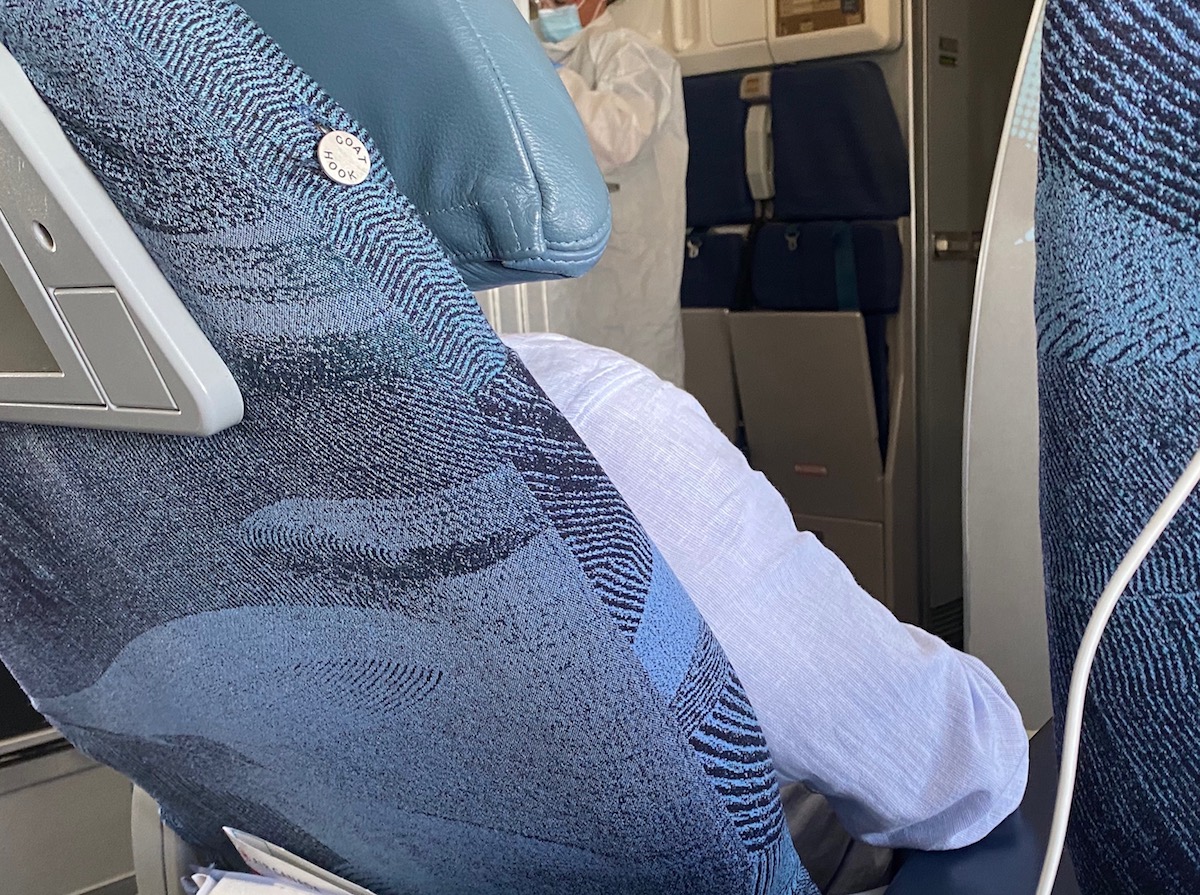 Air Canada crew PPE
Earbuds were distributed after takeoff.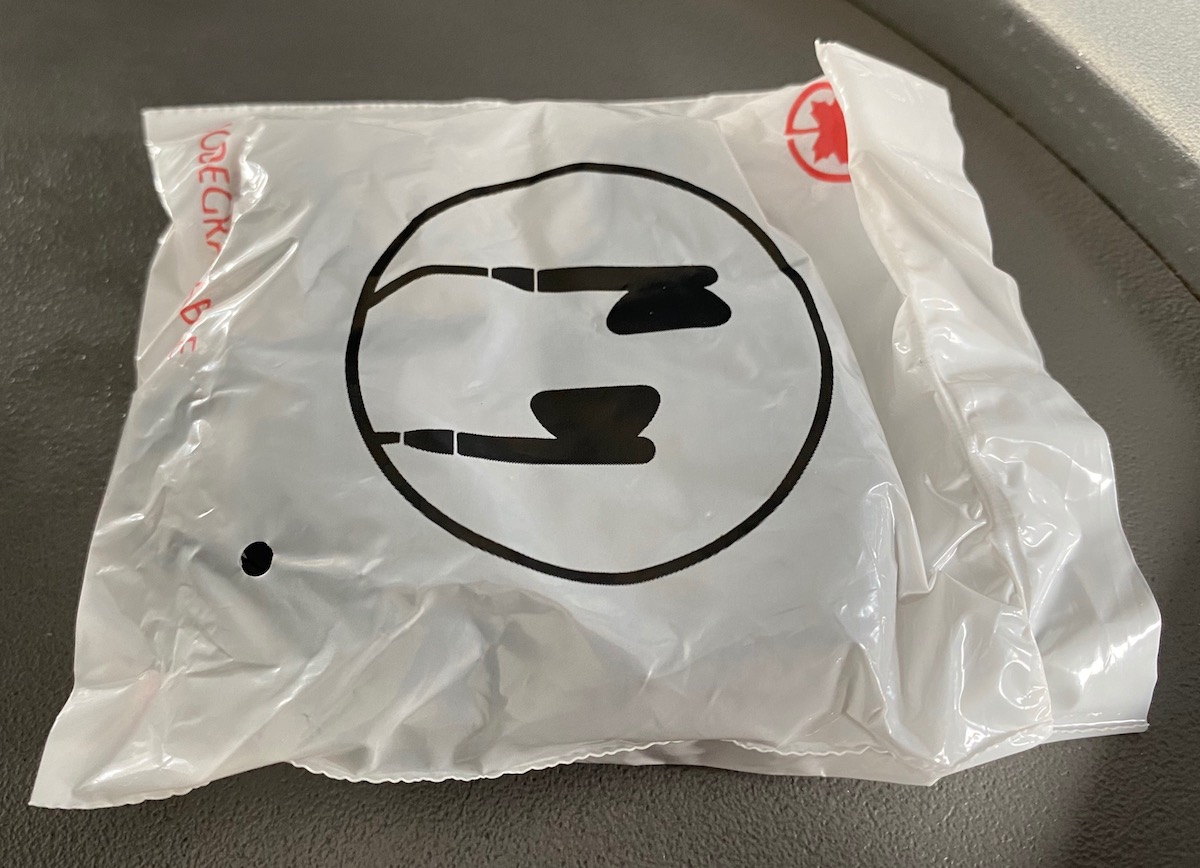 Air Canada business class headphones
The crew then distributed snack boxes in business class.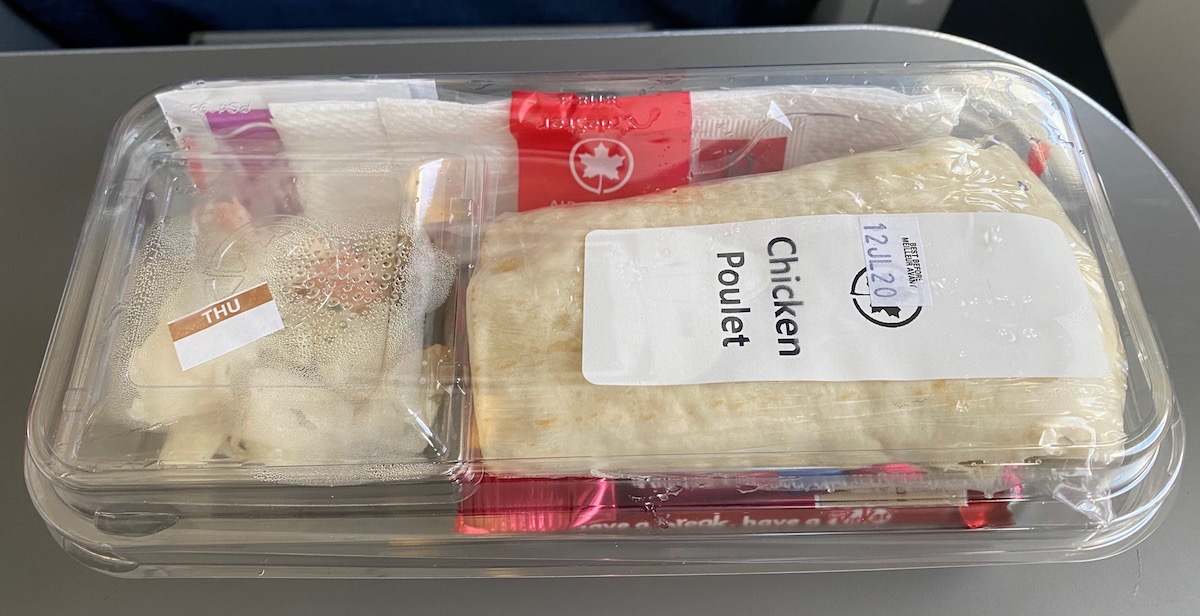 Air Canada business class snack
This included a chicken wrap, some sort of a potato and salmon appetizer (or something), roasted salted almonds, and a Kit-Kat bar.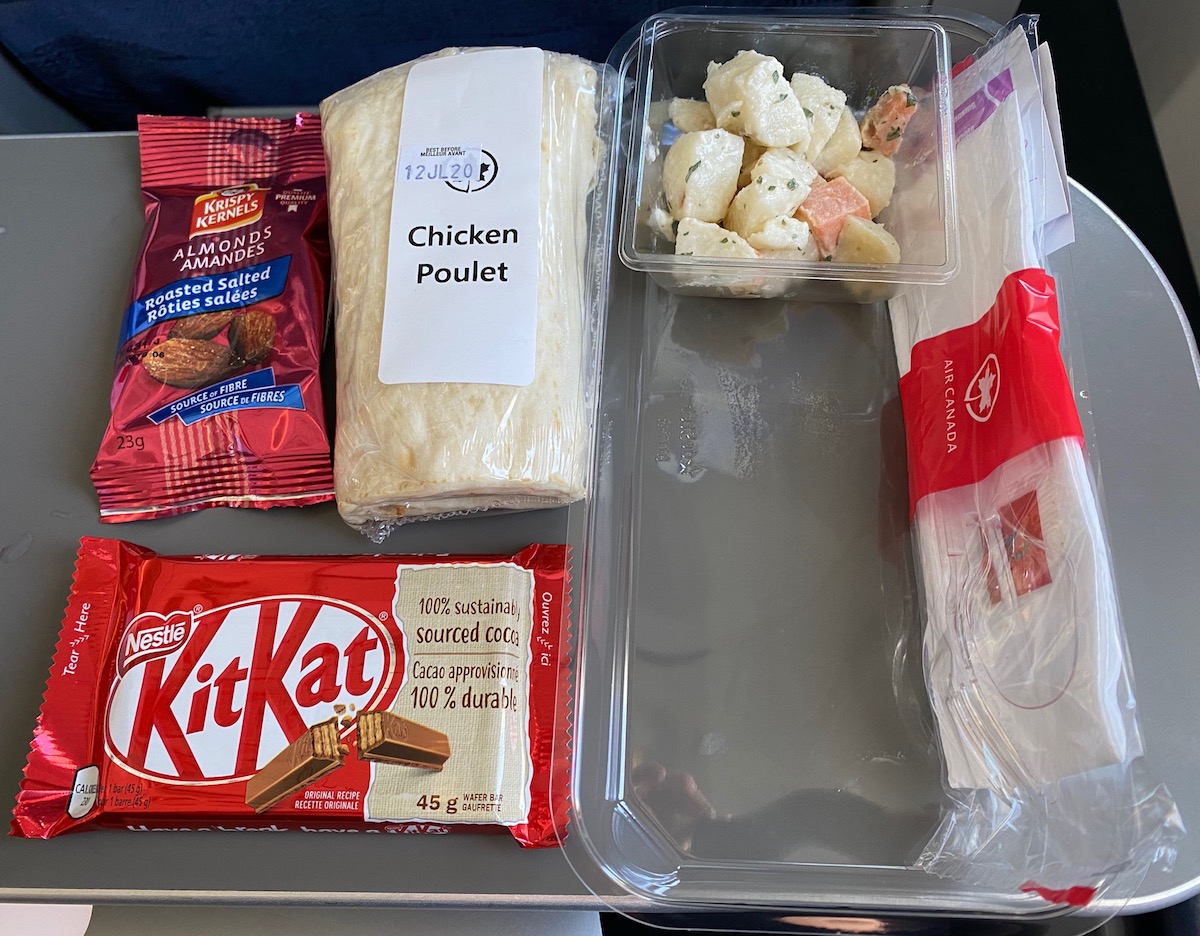 Air Canada business class snack
We were also offered a bottle of water.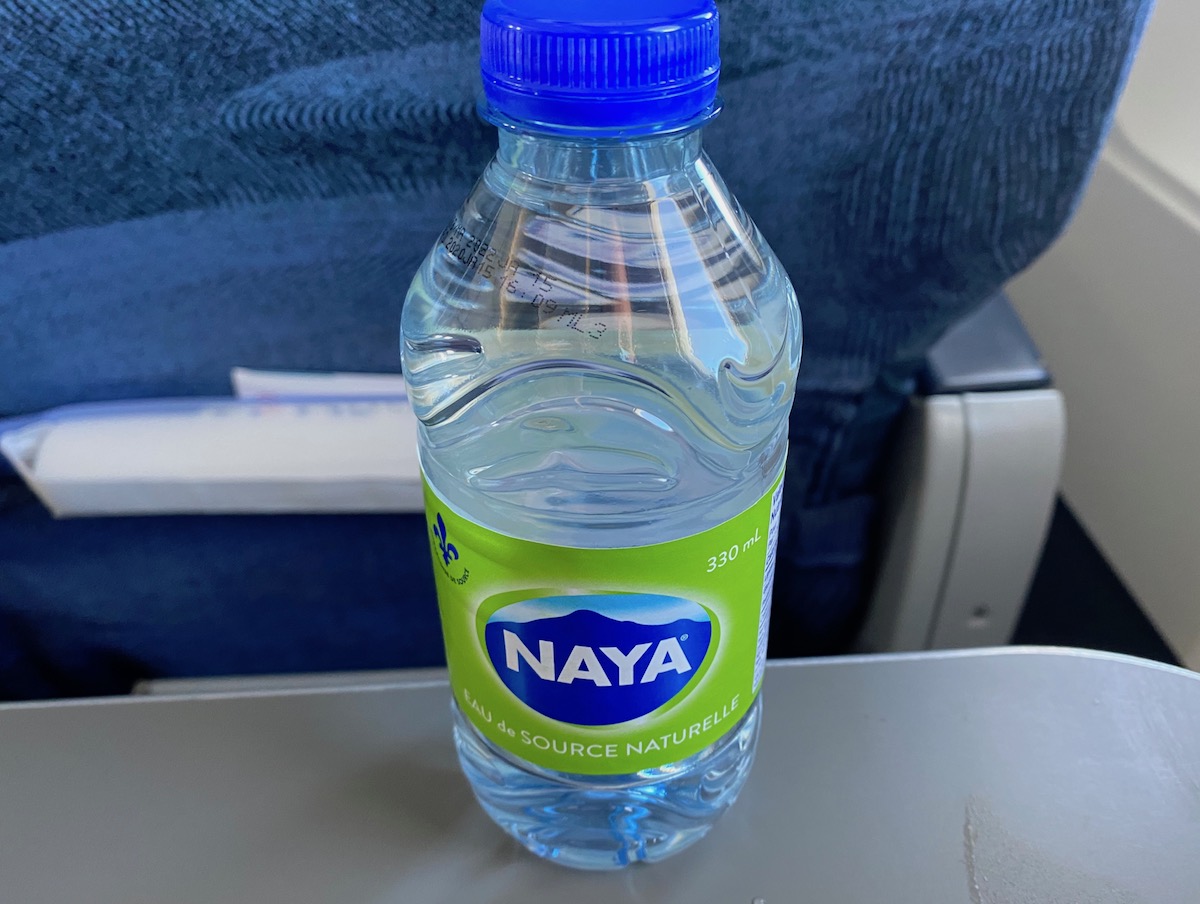 The only further service was that trash was collected. There was no other drink service, no refills of bottled water, etc.
I also found it interesting that the crew never said a word to us. That's not necessarily a bad thing — it's my understanding that the crew is supposed to minimize interaction with passengers, and I'm totally fine with that (it's yet another form of risk mitigation). It's just not often you take a flight in business class and a crew member doesn't say a single word. But we're also living in a new era.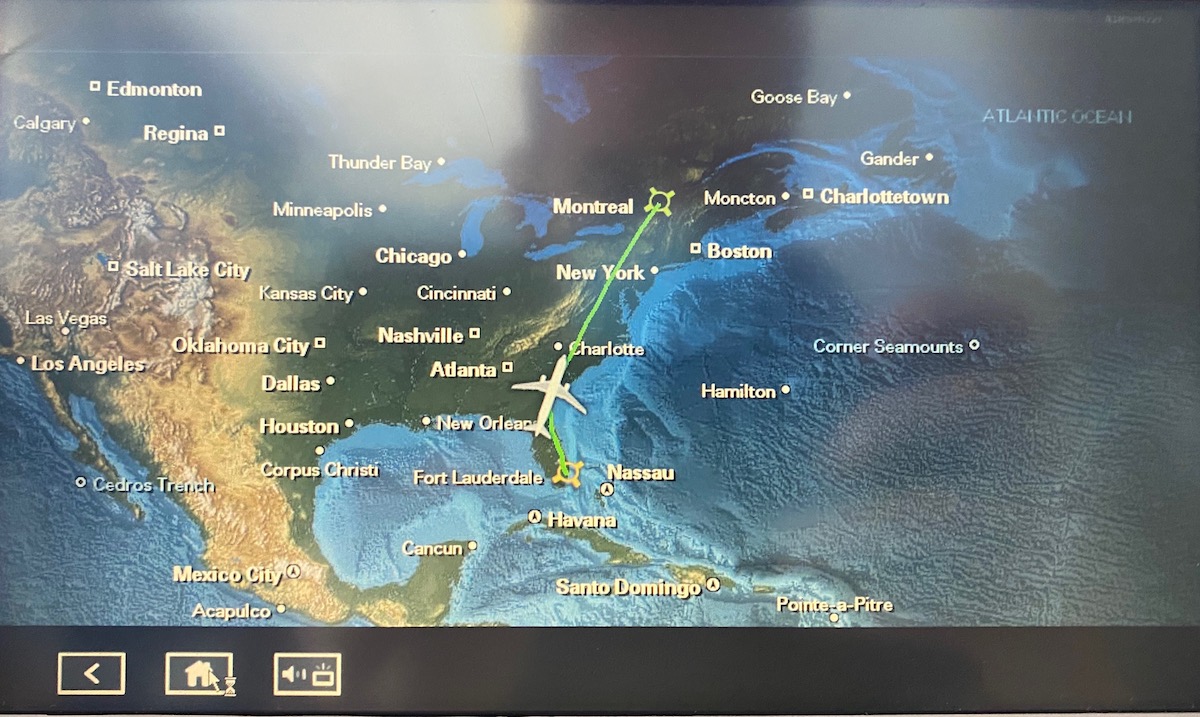 Air Canada business class bottom line
It's fascinating to see how different airlines are handling service during the coronavirus pandemic.
Air Canada has made significant adjustments to its onboard service. The flight attendants remaining at the airline right now have 20+ years seniority, as all others have been laid off. These flight attendants wear masks, gloves, and white gowns.
As far as food and drinks go, in business class there was a snack box and a bottle of water, but nothing else. The crew didn't even say a word to us while providing the service.
Let me emphasize that I'm here to report on what things are like right now, and I don't necessarily have a strong opinion on how things should be when it comes to airline service.
More so than ever before, airlines are prioritizing safety over all else, and that's a good thing. In my opinion airlines should do what they can to encourage people to wear masks as much as possible, because we know that can help stop the spread of coronavirus. The less service is provided, the less time people will spend with masks off. Therefore on the surface less service seems like a good thing.
Does that mean airlines should cut service to this extent? I don't know, though this was in stark contrast to my next flight, where it was more or less business (class) as usual.